In het kader van leuke-dingen-doen op zondag (al was het deze keer zaterdag) kunnen we weer iets toevoegen aan het lijstje. Ter info: de puberzoon was er ook bij, en ik heb zelfs ergens het gevoel dat hij er ook iets van opgestoken heeft.
Gaan we naar Nederland dan check ik telkens eerst of er niks leuks te beleven valt bij Staatsbosbeheer of Natuurmonumenten. Deze keer gingen we niet naar Nederland, maar verplaatsten we ons zo'n 7 kilometer in Noordelijke richting om met de boswachter op stap te staan in de Averegten. Het was trouwens niet alleen de boswachter die we daar zagen maar ook Dandan, de Chinese dame die afgelopen week al een paar keer de media haalde. Dandan is uit China overgevlogen om Provincie Antwerpen te leren kennen en te promoten.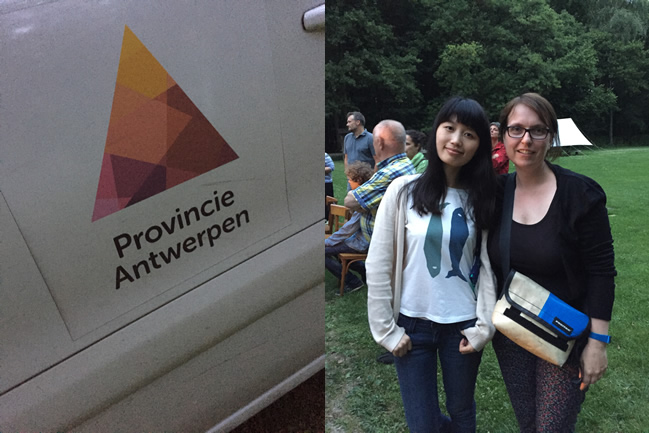 Samen met de boswachters gingen we op zoek naar vleermuizen. We hebben er gelukkig toch een aantal gespot. Al moet ik zeggen dat we thuis bij valavond er vaak meer zien. Ondertussen kennen we ook wel een paar soorten (de dwergvleermuis, rosse vleermuis en langoorvleermuis), weten we dat ze aan echolocatie doen en dat ze ultrasone geluiden maken. Gadget van de avond was de bat detector, een klein toestelletje waarmee ultrasone geluiden worden omgezet in voor ons hoorbare geluiden.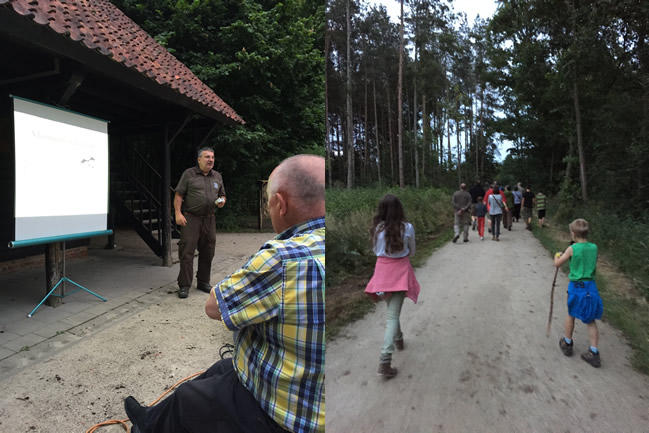 Hoe hoeft duidelijk niet altijd duur of ver weg te zijn. Deelname aan de activiteit "Muizenissen in het vleerbos" was gratis.
Kleine tip voor de boswachters: de groep was te groot om ook tijdens de wandeling de uitleg van de boswachters te kunnen horen. Misschien iets om te volgende keer mee rekening te houden?
Wil je zien welke activiteiten Provincie Antwerpen nog in de aanbieding heeft, dan kan je op de site van de Toerende Toerist terecht of op de vrijetijdskalender van website van Provincie Antwerpen.
Enne, kijk maar eens heel aandachtig naar die vrijetijdskalender. Misschien ziet u er ergens de hand van ondergetekende in? Het was een serieuze hersenbreker, maar ik ben toch blij met het resultaat. Ik hoop alvast dat de gebruikers ervan dat ook vinden.
———–
I promised Dandan to also post something in English, so al least she would understand what I wrote. Here it is:
Related to "doing-fun-things on Sundays" (even though it was a Saturday), we can add something to the list. For your information: the son in puberty was present as well, and I even think he like it and learned something out of it.
When we go to the Netherlands I always check if there is nothing fun at Staatsbosbeheer or Natuurmonumenten. This time we didn't go to the Netherlands, but did a replacement of about 7 kilometres up North to do a walk with the forester in the Averegten. It weren't just the foresters we saw there we also met Dandan, the Chinese lady who got into the media a couple of times last week. Dandan flew in from China to get to know the Province of Antwerp and to promote it.
Together with the foresters we went looking for bats. Luckily we spotted a few of them. Even though, I must say that we see more of them at home when the night falls.
In the meanwhile we got to know a couple of species (the dwarfbat, red bat, big-eared bat); we know that the relate to echolocation and that they make ultrasonic sounds.Gadget of the night was a real "bat detector", a small device used to transform ultrasonic sounds into human hearable sounds.
It clearly doesn't need to be expensive or far away each time. Taking part in this activity was free of charge.
A small tip for the foresters: the group was to big to be able to hear what they had to say during the walk. Maybe something to take into account next time?
If you want to see what other activities the Province of Antwerp has to offer, you can take a look at the website of the Toerende Toerist or checkout the vrijetijdskalender on the website of the Province of Antwerp.
And, please look carefully to this vrijetijdskalender. Maybe you can see the influence of yours truly in it? It was a serious brainteaser, but I am happy with the result. I hope the users of it like it as well.